You get it. You understand large publications can help your business in about a hundred ways.
You understand the significance of having your content published in places that get millions of monthly visitors.
You know large publications separate your brand from others online and that they are the social proof higher-end clients are looking for.
You may want to write articles for publications (or even your blog) but you'd like a structure for creating the articles.
In today's post, I'm going to break it down.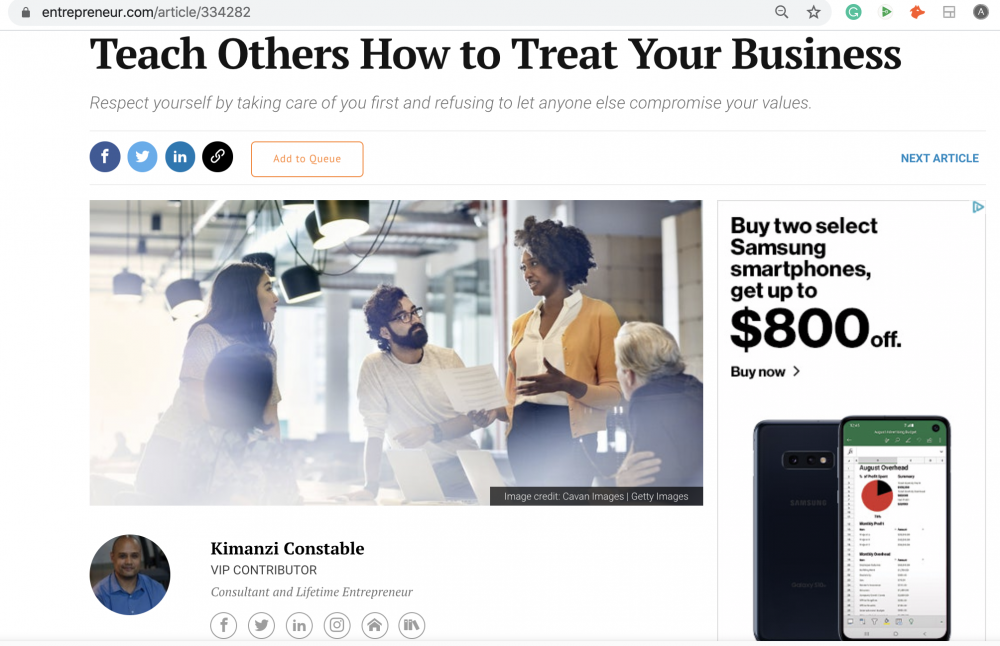 Part one: The Headline

The headline is super important. It has to capture people's attention and make them stop scrolling.

You want a headline that's descriptive and clearly speaks to what you're going to write about in the article — in a catchy way.

I always tell entrepreneurs to come up with a base headline and then add a few adjectives to make it sexier.

For example, if your headline would be: "5 Ways to Build a Business Online," you can spice it up by saying "5 Simple But Effective Ways to Build a Business Online In a Non-Sleazy Way."
See the difference?
Little tweaks help tremendously.

Editors know there are not many new ideas, so they are looking for you to be creative. Every article does NOT have to be an epic masterpiece — most people couldn't handle that anyway.
The goal is to say common things in a different way.
If you need help with headlines, you can always use headline generators: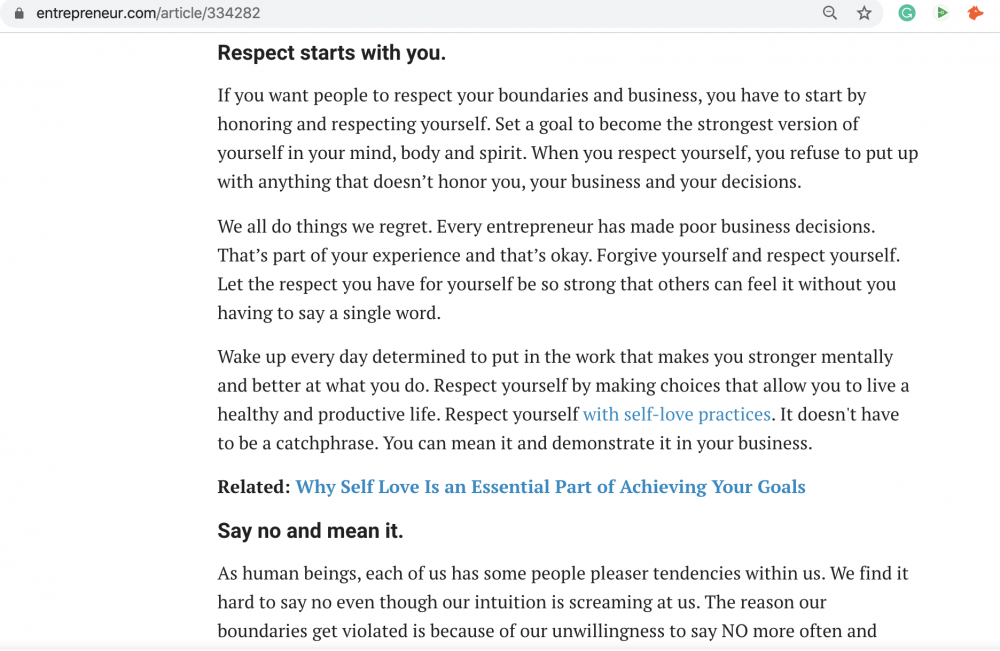 Part two: The Main Points
The main points of an article are there to teach what your article is addressing. Give the publication reader some clear takeaways.
Editors at publications will tell you to teach people what to do — NOT what not to do. Always be teaching.
The goal is to take your initial thought and make them spicier. You have to make the main points sound less than common (like the headline).
Start with a baseline point and add adjectives.
Link to research. Editors LOVE research in an article. You should back up what you're saying with links to other articles that prove what you're talking about.
In the pitch article or first article for a publication, each point should have one research link. That will help you get accepted as a contributor.
DON'T link to competitor publications.
For example, if you're writing an article for Entrepreneur, don't link to articles on Inc. Magazine.
Link to mainstream publications such as Time, news outlets, and research outlets.
A good rule of thumb is don't link to the main six when writing for any of the main six (Inc. Magazine, Entrepreneur, Business Insider, Forbes, Fast Company, SUCCESS Magazine).
It's always best to link to articles within that publication.
DON'T link to your own content until you are firmly in a publication. If you link to your own content in a pitch, you can forget about getting in.
Focus on adding value and building your connection to a publication FIRST.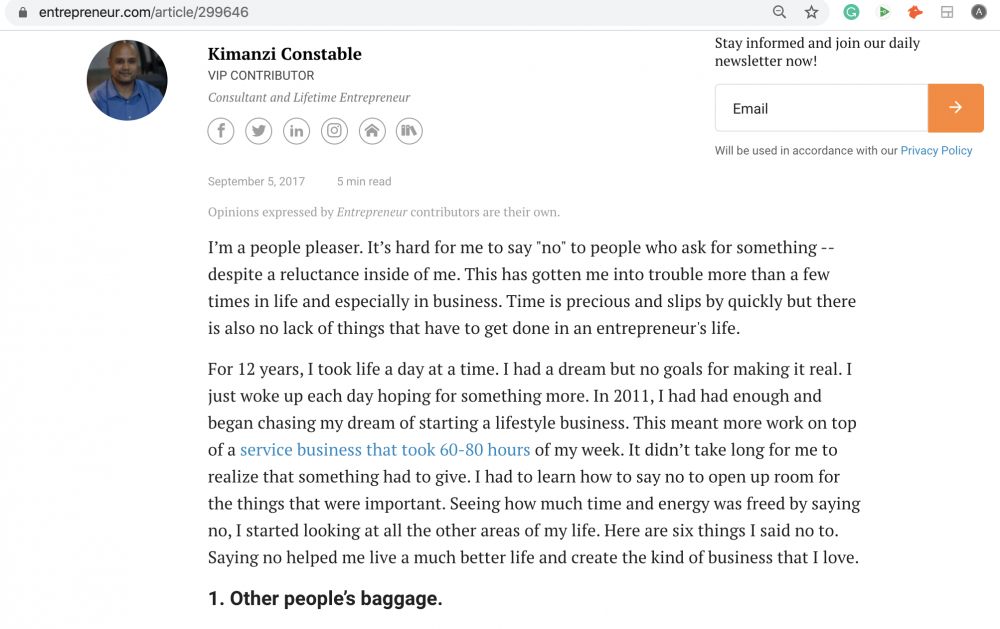 Part three: The Beginning of the Article
The first section should be designed to create awareness of the topic you're writing about or paint a picture of the problem.
Creating awareness is how you'll convert casual readers back to your website — you're opening their minds. Awareness creation starts the buying process in a prospect's mind.
IF you are a contributor with a few articles published, you can tell a story.
If this is your initial pitch article — don't tell a story and DON'T write in the first person.
The goal is to raise awareness and get the reader to make an emotional connection one way or another.
The emotional connection is what gets the reader to invest in your content — and the editor to accept your article.
HIT on pain points. Use words to take the editor and reader there. What emotion am I hitting on in the article above?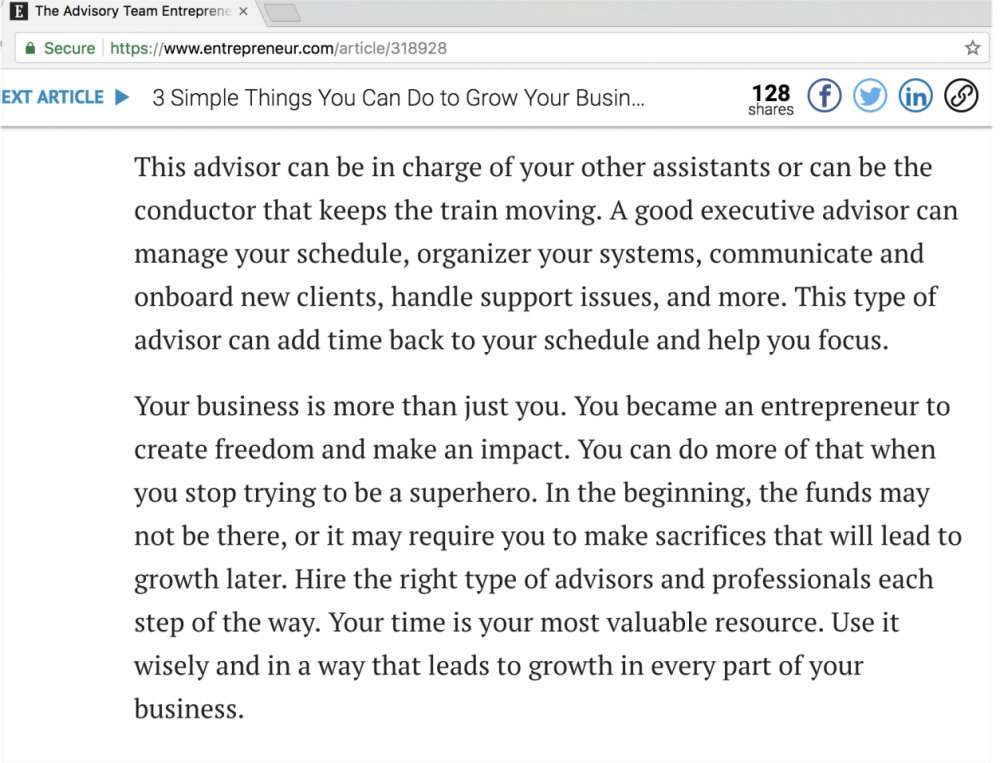 Part four: The End of the Article

You want to end the article with a summary of what you talked about the whole article. Sum up the points in two sentences.

Then, tell the reader what you want them to do as soon as they're done reading the article. Give them the next steps.
They can be short-term (the next few weeks) or longer-term.

DON'T add internet marketing-based calls to action. Large publication editors hate them and it's not effective.

You are talking to a cold audience. You can't come on too strong and that's a mistake too many entrepreneurs make online.
If you add value and create awareness, you'll get what you're looking for.

Get to Work

That's it!

Every article will have a different feel and objective but this is a format you can use to write effective articles.

Make sure you edit the article and have good formatting. Grammarly is a great tool.
In every article, remember this rule: one thought/idea per article. Don't confuse the reader by trying to cover different thoughts.
Start the article with the mindset of 'this is the main thought I want to teach the reader'. Keep a clear theme throughout.
Use these tips and get some articles written today.
Have you ever pitched a large publication?